Henrico Education Foundation is strongly committed to assisting students as they continue their education beyond high school.
Thomas P. Berry 'TJ' Memorial Scholarship

Dr. Jo Lynne S. DeMary Scholarship

Dayne Michael Kaufman Memorial Scholarship

Highland Springs High School Class of 1967

Carol L. Kenzer Scholarship

Benjamin Lambert Scholarship

Ann M. Martin Learning for Life School Librarians' Scholarship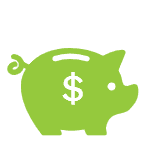 Ann Martin Learning for Life School Librarian's Scholarship
Winner Jenna Stern; Hermitage High
Fall Plans:  College of Charleston to study Accounting
"In high school, the Hermitage library was the place I felt the happiest. I could talk to the librarians about new books, life and special moments….I'm lucky to have been involved with HCPS libraries from elementary to high school. The librarians are so passionate….They have inspired me to find joy in reading…."
Thomas Berry Memorial Scholarship
Winner Marcara Wright; Henrico High
Fall Plans:  George Mason University to study Nursing
"Nursing will provide me the opportunity to help the homeless and international refugees. I successfully completed a nurses' aide program and my Certified Nursing Aide license in August 2019. I have done everything I can at my age to learn about medicine and to prepare for my future."
HEF Opportunity Scholarship
Winner Shailyn Washington; Highland Springs High
Fall Plans:  University of Virginia to study Medicine
Here's what Shailyn's Advanced College Academy marketing teacher said: "She is a well-rounded student who excels academically in coursework as well as leadership, serving as president of DECA….I have no doubt she will excel as she is persistent, engaged and successful in all her academic pursuits."
Carol Kenzer Memorial Scholarship
Winner Mitali Barik; Henrico High
Fall Plans:  Johns Hopkins to study Public Health/Pre-med
Mitali has lofty career goals. "While I will ultimately attend medical school to become a pediatric anesthesiologist, I plan on majoring in both Biology and International Relations with a minor in Hispanic Studies to further pursue healthcare reform on a global scale."
Blank Memorial Scholarship
Sandra Marroquin Scholarship
Winner Manuel Zuluaga-Lopez; J.R. Tucker High
Fall Plans: Virginia Tech
After immigrating to the U.S. from Columbia in 2015, Manuel's fortitude and desire to achieve resulted in finishing his first year of high school with all A's and recommendations for honors classes. He continued to excel, overcoming remarkable challenges, and has a promising future ahead studying mechanical engineering at Virginia Tech.
Dr. Jo Lynne DeMary Scholarship
Winner Anna Hall; Henrico High
Fall Plans: Longwood University
After a successful high school career Anna Hall will pursue her goal of studying speech pathology and exceptional education. She says, "I want to make a positive difference in the world and I feel that teaching kids with disabilities will help me make that difference."