It's March Matching Month at HEF, and our generous donor Strawbridge Studios is matching every dollar donated to HEF in March, up to $10,000! This will mean $20,000 in funding to support Henrico County Public Schools!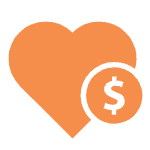 Help us support the 2020-21 school year by donating to the Building Strong Schools Fund.
For more information about how you can help make an impact with HEF, please contact our Chief Development Officer, Jay Shively at jay@henricogives.org
or (804) 652-3870.

Empowering Students for Success
Through a dynamic public-private partnership with Henrico County Public Schools — the commonwealth's sixth largest school division — HEF serves more than 50,000 students, Pre-K through 12th grade in 72 educational facilities. Currently, 46% of HCPS students (more than 23,000) are financially disadvantaged, a number nearly equivalent to the total enrollment of the Richmond City Public Schools. Since its formation, the foundation has provided more than $9.5 million in direct funding affecting more than 600,000 students, teachers, parents and guardians across Henrico County.
HEF does more than just provide additional funding for public education; HEF is an innovator working in partnership with parents, teachers and administrators, continually identifying and developing initiatives that improve school performance and student achievement. HEF supports all public schools in Henrico County, working to develop innovative projects in classrooms and provide assistance to financially disadvantaged students to ensure every child has access to educational programs and resources they need for success. The foundation's unique role is vital to meeting the educational needs of our community's children while providing partnership opportunities for businesses, community leaders and citizens to directly impact public schools.
Your generous donation to HEF is life changing and one of the most effective ways to support our community's schools. Every dollar raised is transforming public schools and creating a brighter future for all of Henrico's 50,000 students.
How Will the Fund Be Used?
Fund advanced teacher training

Provide leadership development programs

Support academic programs and hands-on learning initiatives to prepare students for success for in college and career

Provide assistance to financially disadvantaged students, ensuring that every child has equal access to educational opportunities

Support our Community Learning Centers which take an innovative approach to improve student learning and build stronger families and healthier communities
What Types of Gifts Can I Make?
Stocks, mutual funds or bonds

IRAs, 401Ks or profit-sharing plans

Charitable trusts or gift annuities

Bequests by will or trust