Memorial Scholarship Fund

Tiger-Eagle Scramble Golf Tournament
at Old Trail in Crozet, Virginia
Friday, October 13, 2023 - 10am
All proceeds support the Cheryl Hite Mitchell Memorial Scholarship Fund which honors the beautiful life and spirit of Cheryl whose compassion and love touched many lives.
(Register as a sponsor or participant)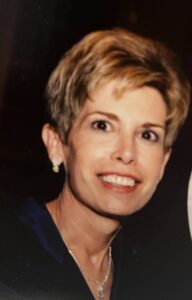 All donations to the Cheryl Hite Mitchell Memorial Scholarship Fund will honor the beautiful life and spirit of Cheryl Hite Mitchell through an annual scholarship program. Scholarships will be awarded to an Exceptional Education student at both Mills E. Godwin and J.R. Tucker High Schools. The first scholarships were awarded in 2023.
Cheryl's connection to Tucker and Godwin runs deep.
Cheryl entered Tucker at its opening in 1962 as a seventh grader. Her seventh grade class was the first to complete grades 7-12 on the campus as the Class of 1968. Cheryl's son and daughter are Tucker graduates as well as her three siblings.
Cheryl's Godwin career as a special education instructional aide began in 1984 and ended with her retirement in 2010. She was loved and valued by colleagues as a tutor in many disciplines with geometry being her favorite subject. Cheryl was gifted with the ability to connect with each student to nurture success.
Cheryl was a beloved and devoted wife, mother, grandmother, sister, educator, colleague and friend to many. She always tried to seek and appreciate the best in each person. This was demonstrated each day of her 28 years of service to the Exceptional Education students of Henrico County Public Schools. Cheryl's was a life well lived with care and compassion for all. She touched many lives and all were better for it.
We thank you for your generous support to carry on Cheryl's memory through this fund.
Donations in the form of checks may be mailed to:
(make check payable to Henrico Education Foundation and include Cheryl Hite Mitchell Memorial Scholarship Fund in the memo)
Henrico Education Foundation
P.O. Box 31413
Henrico, VA 23294
To make a gift of stocks, mutual funds, bonds or other charitable trusts or bequests, please contact Jay Shively jshively@henricogives.org or (804) 877-9401.