Glen Lea Elementary Telehealth Clinic
A ribbon-cutting ceremony in December 2021 at Glen Lea Elementary School celebrated an innovative new clinic that will help students get better access to health care and reduce missed instructional time. The Glen Lea Telehealth Clinic uses an internet webcam and other tools to enable students at the school in eastern Henrico County to consult with doctors, nurses, dentists and other health professionals.
The clinic, in the works since 2017, is a joint project of Henrico County Public Schools, the Henrico Education Foundation, Children's Hospital of Richmond at VCU, and VCU Dental Care.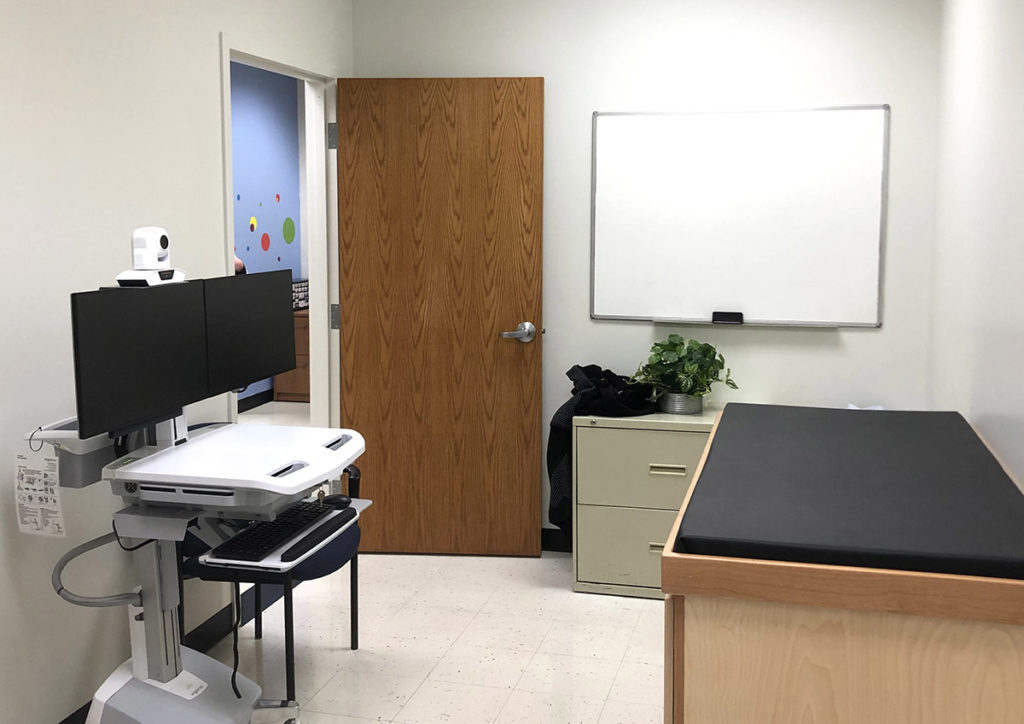 Any student at Glen Lea is eligible to participate with the permission of their parent or guardian, and there are no out-of-pocket costs for families. Funding is provided through HEF with funds from Facebook, the Jenkins Foundation, the Herndon Foundation, the Memorial Foundation for Children and Dell Technologies.
"HEF is pleased to be a convener and collaborator in this initiative," said Mike Taylor, CEO of the Henrico Education Foundation. "We strive to connect our schools with organizations and professionals to develop community-based solutions that will make a difference in the lives of children. The telehealth clinic at Glen Lea is a great example of what can happen when the community partners with public schools."
In addition to expanding health care access, the clinic may help cut down on student absences. Because traditional non-emergency medical appointments must often be scheduled during the school day, students can miss valuable instructional time for an in-person appointment.
"With the opening of the Glen Lea Telehealth Clinic we remove yet another barrier to wellness and academic growth for Glen Lea students," said Amy Cashwell, superintendent of Henrico County Public Schools. "We know that children who are not feeling well may have difficulty focusing on their learning. Through this meaningful partnership with Children's Hospital of Richmond at VCU and the Henrico Education Foundation, we are collectively wrapping our arms and services around our families to elevate student health and academic success."
A new consultation room in the school's clinic includes technology designed for remote consultations, as well as an examination table built by the HCPS Facilities Department. Health professionals performing remote exams will be able to look inside students' ears or mouths using specially designed tools. Parents and guardians will also be able to participate in the appointments virtually.
For immediate needs, the clinic nurse will contact a scheduler at the Children's Hospital of Richmond at VCU, and an alert will pop up on the phone of the doctor on call. The doctor can be talking with the student in as little as 10 minutes. Clinic creators stress that the new system will almost certainly require tweaks as the program gets underway.
Remote health professionals will also work closely with the nurse who staffs the school's clinic, to do things like listen to a student's lungs and relay those findings. If a student has a primary care physician, a report will be sent to that doctor.
Project organizers hope to eventually expand the service to other schools.
The clinic is part of a larger effort by Henrico County Public Schools and the Henrico Education Foundation to connect families with academic, health and community services through its Community Learning Centers initiative.
Reprinted with permission from Henrico County Public Schools.