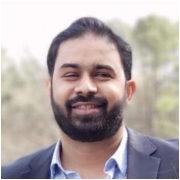 Raj Joshi
Rajbans (Raj) Joshi is a Technical Product Manager with AMC Technology. He is responsible for working with customers and understanding their needs in terms of increasing adoption of the AMC DaVinci platform, which is then aligned with the Product Roadmap at AMC. After graduating with a degree in Computer Science and Engineering in 2005 in India, Raj moved to Glen Allen, Virginia in 2008 and has called Henrico his home ever since.

Outside of work, Raj serves in various volunteer leadership roles in various non-profit organizations. He is the past-president of India Association of Virginia (IAVA) and is currently on the board of IAVA. He represents the Indian community in Asian American Society of Central Virginia (AASoCV) and is the current Community Relations Director of AASoCV. He is also an area director in District 66 (serving Virginia) of Toastmasters which is a global non-profit organization promoting leadership and communication.

Raj and his wife Kim, married since 2012, are avid travelers, hardcore foodies and always ready to experiment with something new and adventurous. Raj looks forward to serving on the HEF board and hopes that through his service, he will be able to work on meaningful and impactful changes that bring in positive changes to Henrico County Public Schools.