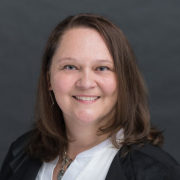 Delphine Hartsel
Delphine Hartsel moved to Richmond, Virginia in 1989 as an exchange student from France to attend Mills E. Godwin High School in Henrico County. She decided to stay and pursue her studies at Virginia Commonwealth University, Business School, in the honors program where she earned her Bachelor of Science in marketing with a minor in economics.

Delphine started with Circuit City Superstores in 1994, right out of college, in their management trainee program. She transferred to CarMax, the nation's largest retailer of used cars, in 1996 when the Company was opening its fifth store. Her current role is Director of Accounting Operations. Delphine is passionate about developing teams that deliver quality execution on complex transformational initiatives.

Delphine is married and has two grown children who attended Henrico County Public Schools. She is passionate about education and hopes to someday teach French within HCPS. One of her favorite things about volunteering with HEF is the opportunity to contribute to the significant role that HEF plays to empower teachers to provide unforgettable learning experiences to their students.