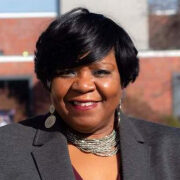 Michelle McQueen-Williams
Virginia Union University
During her career as a professional educator, Reverend Dr. Michelle Kelly McQueen-Williams has shown a deep concern for the educational, social, and emotional well-being of the children she has encountered as a teacher, assistant principal, and elementary principal for Henrico County Public schools. She was named the first principal of Harvie Elementary, the 45th and most recent elementary school to be opened in Eastern Henrico County, Virginia. She retired as the Director of Elementary Education in Henrico County Public Schools and recently authored a memoir entitled, "Leadership in Three Words, The Art and Science of Educational Leadership". She is currently serving the Executive Director of k-12 Educational Experiences and the Interim Dean of the Evelyn Reid Syphax School of Education at Virginia Union University. In addition, she serves as a Leadership Supervisor for the University of Richmond's Educational Leadership and Policy Studies Division.

Michelle is a product of the Richmond Public School System and holds a Bachelor of Arts degree in Journalism from Virginia Union University, where she was crowned Miss Virginia Union University. Additionally, she obtained her Master and Ph.D. in Educational Leadership from Virginia Commonwealth University. She also attained the certificate of completion from Virginia Tech's Aspiring Superintendent's program. She graduated with honors from the Samuel Dewitt Proctor School of Theology at Virginia Union University, with her Master of Divinity. Dr. McQueen serves the board of directors as Vice President of the Henrico Police Athletic League and a was recently appointed to the Henrico Education Foundations board of directors. She is a Diamond Life Member of Delta Sigma Theta. Licensed and ordained, she currently serves as an Associate Minister at the First Baptist Church of South Richmond where Dr. Dwight C. Jones is senior pastor and Dr. Derik Jones serves as pastor.

A civic minded, mother of one son, she seeks to motivate, inspire, and empower all with whom she comes in contact.