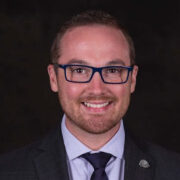 Adam Smith
Adam Smith is the Senior Vice President of Member Programs at Virginia REALTORS®. In his role, Adam is responsible for the oversight and coordination of association member benefits, education and outreach programs, and volunteer member involvement. Adam is a certified Project Management Professional (PMP) and Disciplined Agile Scrum Master (DASM) through the Project Management Institute. He holds a Bachelor of Arts in Political Science from VCU. Prior to joining Virginia REALTORS®, Adam was appointed by Governor Bob McDonnell as a Defense Research Analysist and Legislative Liaison for the Secretary of Veterans Affairs and Homeland Security. Adam served in the United States Marine Corps for six years prior to moving to Richmond.

Outside of work, Adam enjoys fishing, soccer, and volunteering. In his recent past, he has volunteered with the Salvation Army Boys & Girls Club as a Robotics Coach and an Advisory Council Member. He currently serves as a Salvation Army Central Area Command Advisory Board Member.

Adam and his wife of 12 years, Zuzanna, have one daughter, Lilli, who will soon attend a Henrico County Elementary School. Adam and Zuzanna are passionate about supporting the youth in our community.