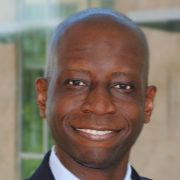 Cedric Green
Dr. Cedric F. Green is vice president–Technical Services for Dominion Energy Virginia's power generation group. He is responsible for engineering design and control authority for Dominion Energy Virginia's non-nuclear generating fleet and contracted solar assets in ten states.

Cedric is a graduate of University of South Carolina where he earned all his degrees: B.S. Mechanical Engineering, MBA, M.E. Mechanical Engineering, and Ph.D. Mechanical Engineering. Cedric is a licensed Professional Engineer in the State of South Carolina. He has completed multiple leadership programs including Leadership South Carolina and the Riley Institute Diversity Fellowship of Furman University. Cedric is a fellow in the Liberty Fellowship program (Class of 2009) and is a member of the Aspen Global Leadership Network.

Cedric has served the community in leadership roles such as serving on the Board of Directors for the Charleston Metro Chamber of Commerce and serving as Chairman of the Leadership South Carolina Board of Trustees. In 2021, he joined the Virginia Foundation for Community College Education and Smart Beginnings boards.

Cedric's most recent community involvement is with the Henrico Education Foundation, a cause that excites him. He relishes the opportunity to help make decisions that promote equity in educational opportunities for young children in our most vulnerable communities.