Yes, I would like to invest in educational excellence!
For more information about how you can help make an impact with HEF, please contact our Chief Development Officer, Jay Shively at jshively@henricogives.org
or (804) 877-9401.

The Henrico Education Foundation (HEF) is an independent nonprofit 501(c)(3) tax deductible organization providing Henrico County Public Schools (HCPS) with additional education programs, financial resources and support to increase student achievement. Since its founding in 1993, HEF has played a vital role in meeting the educational needs of Henrico's children.
During the 2021-22 school year HEF impacted more than 36,575 students, teachers and parents — with over 93% of this impact made possible by donations directly from partners like you! You are the reason we are able to grow programs, launch new initiatives and achieve outcomes for so many Henrico children.
Together we can Ignite a Brighter Future.
Ways to donate to the Henrico Education Foundation:
When you give the gift of education every month, you provide consistent support for transformational initiatives that directly address opportunity gaps in our public schools.
Becoming a recurring monthly donor is easy, convenient and budget friendly. You can feel good knowing you are supporting students' education by providing the things they need every day to be successful.
Sign up for your monthly donation today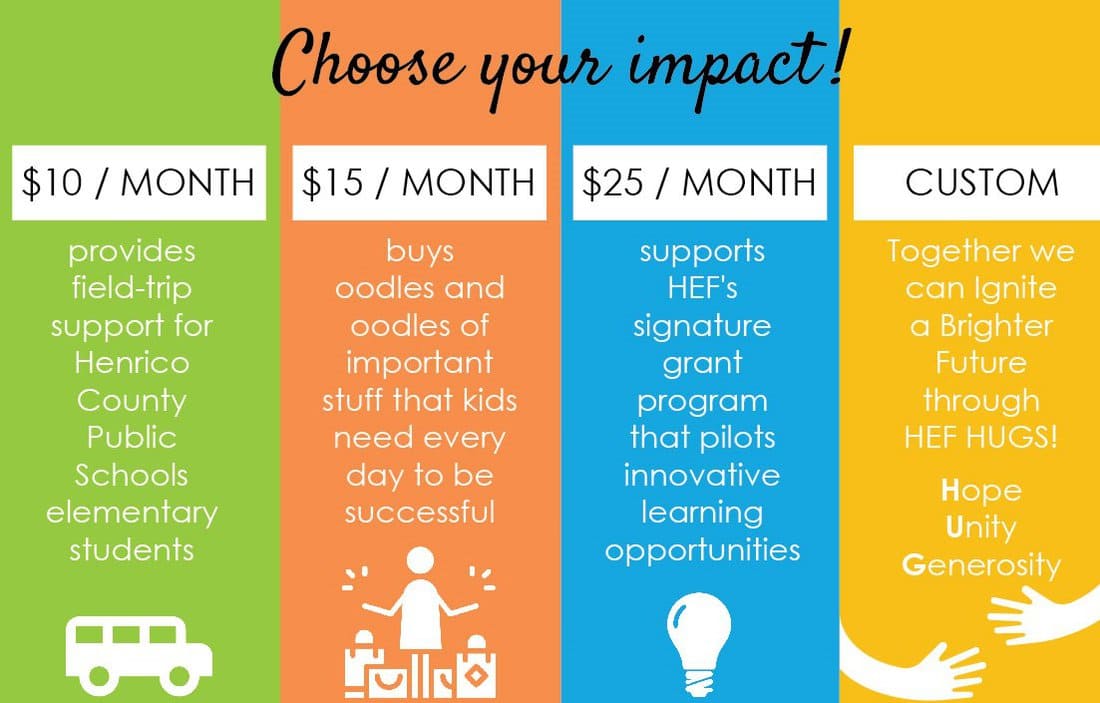 Make a one-time donation to support our mission to strengthen schools by advancing impactful initiatives that improve student outcomes. Your contribution of unrestricted funds can:
Support academic programs and hands-on learning initiatives to prepare students for success for in college and career
Provide assistance to financially disadvantaged students, ensuring that every child has equal access to educational opportunities
Support our Community Learning Centers which take an innovative approach to improve student learning and build stronger families and healthier communities
Fund advanced teacher training and leadership development programs
Need some help from Amanda to write this section
Make a lasting impact by making a gift to the Dr. William C. Bosher Jr. Memorial Endowment Fund. The endowment will nurture student academic success, create innovation in the classroom, and strengthen the quality of Henrico County Public Schools. Learn more about Dr. Bosher and the endowment fund.
Henrico Education Foundation is strongly committed to assisting students as they continue their education beyond high school. You can positively impact a child's education by providing scholarship funds they can use for two- and four-year college degrees or technical programs.
The annual dinner is Henrico County's premier fundraising event supporting local education. The dinner pays tribute to the vast network of generous philanthropists, business leaders, volunteers and elected officials who are dedicated to making a difference in the lives of Henrico school children. Businesses are invited to sponsor and attend this event that shines the spotlight on heroes in education.
HEF's annual golf tournament is held each fall and is an opportunity for business who work hard for our students to play hard and have fun. Sponsorships are available at various levels.
Proceeds from the tournament provide innovative classroom grants, extended learning opportunities and leadership programs for students and staff in schools across Henrico County.