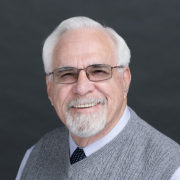 Gene Raines
Gene Raines, Finance Manager, joined HEF in July 2019. Gene retired from the Accounting Department at Travelers Insurance in June of 2010. He has many years of experience in management and accounting in a variety of industries. Gene graduated from Grayson County Junior College in Sherman, Texas with an Associate Degree in Accounting in 1976. He is a Vietnam Veteran having served eight years in the U.S. Army.

Gene has been married to Sandra for 57 years and has four children, 14 grandchildren, and 15 great grandchildren.

Gene's favorite thing about working for HEF is the people on staff, and the inspired leadership team.