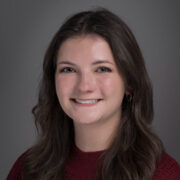 Erin Acors
Erin Acors is the Controller of the Henrico Education Foundation (HEF) and joined us in October of 2022. She previously worked for the Medical College of Virginia Foundation.

Erin completed her Bachelor of Business Administration with a major in accounting from the University of Central Arkansas in 2021. At UCA, Erin played on the softball team and became a member of the National Society of Leadership and Success. After completion of her bachelor's degree, Erin completed a master's degree in the Science of Accounting from Liberty University with a focus in Audit and Financial Reporting.

Erin enjoys spending time with her family, friends, and her French Bulldog, Winnie. Athletics is still a major part of Erin's life, and she loves to get outside and get active any chance she can.