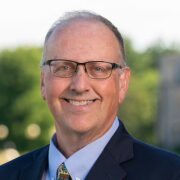 Will Lamb
As a college professor and academic administrator, Will Lamb has taken part in institutional and curricular innovation for more than 25 years. Will is excited to support HEF as a crucial driver of innovation and experimentation within Henrico's schools.

Will is Dean of the School of Management at Marist College. Prior to joining the faculty at Marist, Will was the Dean of Graduate and Adult Learner Recruitment at EAB in Richmond, Virginia. Previously, Will served as Dean of the LaPenta School of Business at Iona College, Murata Dean of the F. W. Olin Graduate School of Business at Babson College, and Associate Dean for Graduate Programs in the Ohio University College of Business. He has extensive experience in classroom teaching, curricular development, program planning, program marketing, and academic administration.

Will received a Bachelor of Arts in Anthropology and a Master of Education in Instructional Technology at the University of Virginia. He earned his Doctor of Philosophy in Strategic Management from Virginia Tech.