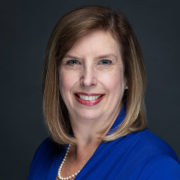 Veronica Hinckle
Veronica has been involved with the Henrico Education Foundation since 2012, serving in multiple roles including Board Chair. She is most excited about the transformation of the organization over the years to be a key partner to the support of the Henrico County Public Schools. Education is the key to success in life and HEF is able to provide innovative support to the students, families, faculty and staff. Veronica is a CPA and is the Controller and Treasurer of Home Care Delivered, Inc. in Henrico County. She is a graduate of James Madison University.

Veronica has deep roots in the school system as she, her husband, David, and two daughters, Amanda and Emily, are all HCPS graduates. Amanda works in philanthropy at Winterthur Museum and Emily is a special education teacher in Goochland County.

In her spare time Veronica also serves on the board of Fishing Bay Yacht Club, and she enjoys sailing and spending time with family and friends.