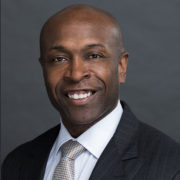 Travis Pearson
Travis Pearson is a believer in educators and in the right education; primarily because of the dreams they can fulfill in students' lives. He attributes much of his life successes to the support of his surrounding community. Henrico Education Foundation provides resources and opportunities to Henrico schools and communities, bridging the gap where limitations may exist.

Travis spent six years working for a university after college, and loved the opportunity to help students achieve a higher education. Travis is currently a Senior Director in Product Line Leadership at Markel Corporation. His primary responsibilities include developing, branding and managing a portfolio of financial institutions insurance products nationally.

Travis graduated from Illinois Wesleyan University with a Bachelor of Science in Public Accounting, and Northwestern University with a Master of Science in Integrated Marketing and Communications.

Travis is also the Board Chairman of the Henrico Economic Development Authority. He lives in Henrico, VA with his amazing wife, Andrea and their four children. In his spare time Travis likes to ride motorcycles, travel, and workout.