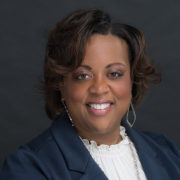 Patrice Martin
Patrice Martin is passionate about giving back. The Henrico Education Foundation allows her to contribute in a meaningful way that helps to fulfill her passion. Her other passion is Human Resources. Patrice enjoys her career as a Global Human Resources Director at Thermo Fisher Scientific. Her prior Human Resources experiences at Altria, McKesson Medical-Surgical, Genworth, and Target afforded her the opportunity to work with diverse business functions, executive leadership, and wide-ranging Human Resources initiatives that have helped to shape her experiences.

Patrice holds a Bachelor's Degree in Business Management from Longwood University and Master of Business Administration, Human Resources from Strayer University.

Patrice is a Board Member of Henrico Education Foundation and volunteers in her local community. In her spare time, she enjoys HGTV, going on foodie adventures around the city, bike rides with her family, and cooking. Patrice and her husband Jermaine have two children, Jayden and Peyton and a dog, Jasmine. Patrice just marked a year anniversary serving on the Henrico Education Foundation and has truly enjoyed the impact afforded to Henrico County Public Schools through the giving of the foundation. Her favorite moments with the foundation are when educators and students share the impact Henrico Education Foundation has made in their educational experience.