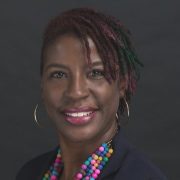 Monica Brinkley Davis
Monica Brinkley Davis, MBA, is a Senior Human Resources Specialist at Dominion Energy. In her role at Dominion Energy, Monica supports the Career Center, a place where current employees can come to navigate the process of applying for their next career opportunity, receiving resume, interview and branding support.

In addition to a strong desire to serve others in her career, from an early age, Monica has nurtured a desire to give back to the community. She is an active member of The Richmond Alumnae Chapter of Delta Sigma Theta Sorority, Inc., Junior League of Richmond, and the Richmond (VA) Chapter of the Links, Incorporated. She also serves on the boards of The Valentine and the Henrico Education Foundation.

Monica navigates and partners in life with her amazing Husband and fellow University of Virginia Alum, Damon, and together they parent, Brinkley, their smart, vibrant & energetic teenage daughter.