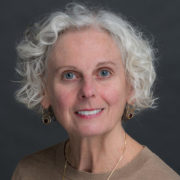 Meg Graham
Virginia House of Delegates
For the last 13 years Meg has been a legislative aide to four Delegates, each representing a metro Richmond district, in the Virginia House of Delegates. As an aide Meg works with a highly diverse constituency to interact with state agencies, petition for improvements to state laws, and educate on the workings of our state government. Prior to moving to Richmond in 1996, Meg was a commercial lender for a nationally focused financial institution for 15 years.

Meg was educated in the Philadelphia parochial school system and then earned her BA from the University of Virginia and a MBA from Villanova University. She and her husband have been married 35 years and have three adult daughters and two grandchildren. Her daughters attended Henrico County Public Schools and then Virginia public universities, collectively for 48 school years.

The Graham family feels so very fortunate to have the life-long benefit of the strong educational background provided by HCPS. Meg hopes to be part of the continuing learning opportunities for others in the county through HEF. She believes and supports HEF's exceptional, innovative programs and the enhancing value those programs provide to students at critical junctions in their educational development.