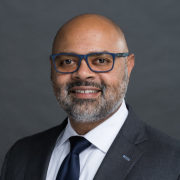 John Delandro
John Delandro is a believer in students owning their educational experience, and joined the Henrico Education Foundation in 2012 feeling that HEF rallied educators to help students achieve that goal! The foundation provides ways to channel energies within the community towards those who can deliver positive educational outcomes to students in innovative ways. This fulfills John's passions in that you can see positive outcomes through donations of time, energy and talent to the future of Henrico and Virginia. John's other passion comes from a career in investing in the future as a Senior Portfolio Advisor with Merrill Lynch in Richmond Virginia; he has been in the investment industry since 2007. Prior to his time with Merrill Lynch, John served in the United States Army for 21 years in various duty locations around the world.

John holds a Bachelor's degree in Psychology and a Masters in Business Administration from Saint Leo University, a Private University in Saint Leo Florida that was established in 1889.

John is involved in the Rotary Club of Richmond and serves on various boards such as the West Richmond Businessman's Association, and enjoys giving to his local community. In his spare time, he enjoys woodworking, physical fitness and working in his yard with his wife of 29 years, Anna Delandro. They have two adult children, Dorian and Trevor who are both products of the Henrico County Public School System. John's favorite moments with HEF come when HCPS educators attend board meetings and share the specific impacts made on the lives of students. The impact of those many small moments play out in the lives of young students in ways not measured by test results, but by the citizen the county gains years later.