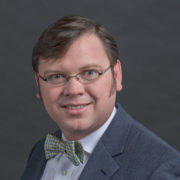 Jason Smith
Federal Reserve Bank of Richmond
Jason Smith serves as the Senior Community Development Advisor for the Federal Reserve Bank of Richmond. Prior to joining the Fed in 2021, Jason served as associate vice provost of Community Engagement at Virginia Commonwealth University and in that role developed Graduate RVA, a workforce preparation partnership that was designated a Talent Hub by the Lumina Foundation and Kresge Foundation.

Jason earned a Ph.D. in Organizational Leadership and Learning from VCU, a Master of Divinity degree from the Baptist Seminary at Richmond, and a bachelor of science degree in Biology and a bachelor of arts degree in Religious Studies from VCU. He also completed executive and continuing professional education on Measurement, Design and Analysis Methods at Harvard University.

Outside of his work at the Federal Reserve, Jason enjoys camping, mountain biking, and gardening with his two boys. He also serves in volunteer leadership roles for several local organizations, including the Henrico Education Foundation and Mentor Virginia board of directors. Jason's favorite thing about serving on the HEF board is seeing how community investment can catalyze system-level changes and continuous improvement.