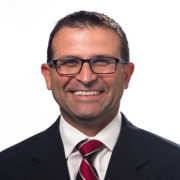 Dennis Bickmeier
Dennis Bickmeier was named the third President of Richmond Raceway, a 1,100-acre motorsports and multipurpose entertainment facility in Richmond, Va., in July 2011. Dennis is active throughout the greater Richmond region, serving as treasurer of the Executive Committee of Richmond Region Tourism and representing the track as a board member. He also serves on the Board of Directors for the Henrico Education Foundation and the Henrico Police Athletic League. He works closely with ChamberRVA and the Henrico Career & Technical Education Center on matters related to work-force development.

Over his 30-year sports management career, Dennis has worked for some of the top sports organizations in the nation. A native Ohioan, he is a graduate of the Ohio University Scripps School of Journalism. He also holds a master's degree in Sports Administration from Ohio University.

Dennis lives in Richmond with his wife and their three children. He has witnessed the direct and positive output from Henrico students and teachers as a result of the support given by HEF, and is proud to serve on the board and work side by side with so many others from the community to support students and carry on the mission of the foundation.