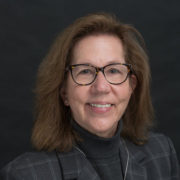 Betsy Beamer
Betsy Beamer served as Virginia's Secretary of the Commonwealth under Governor George Allen from 1994-1998. Prior to her appointment, she spent several years in Republican fundraising. She headed up the finance section of the National Republican Congressional Committee's Campaign Academy as well as served as finance director at the Republican Party of Virginia in 1990. She also has served as finance director and consultant for several local, state and national campaigns.

Betsy is currently employed as the Director of Strategic Planning and Special Projects at McGuire Woods Consulting. She is past chair and member of the Salvation Army of Metro Richmond. She is past chair and current member of Crossover Healthcare Ministry. She has served on the boards of the Virginia Public Access Project, the Board of Visitors of Radford University, Project Exile – Safe Neighborhoods, Prevent Blindness Virginia and the Richmond Eye and Ear Hospital Foundation. She served a four-year term on the Virginia Board of Education from 2010-2014 and served as vice president for the last two years of her term. She currently serves on the Board of the Henrico Education Foundation.

She and her husband Jim are the parents of two daughters, Laura, a recent graduate of William and Mary and Anna, a rising second year at the University of Virginia. They attend Second Baptist Church.

Betsy came to HEF fresh from a term on the Virginia Board of Education. There, she saw first hand how helpful it was to a community to have an education foundation complement the work of the local school board. In her tenure here, she has watched HEF grow from a wonderful student-focused helping arm to HCPS to a true PARTNER with HCPS. "HEF has been innovative in so many ways to make education more meaningful in Henrico to a wide array of students and their families. Our eyes are on our students. That is what matters most to me in the work that we are doing."